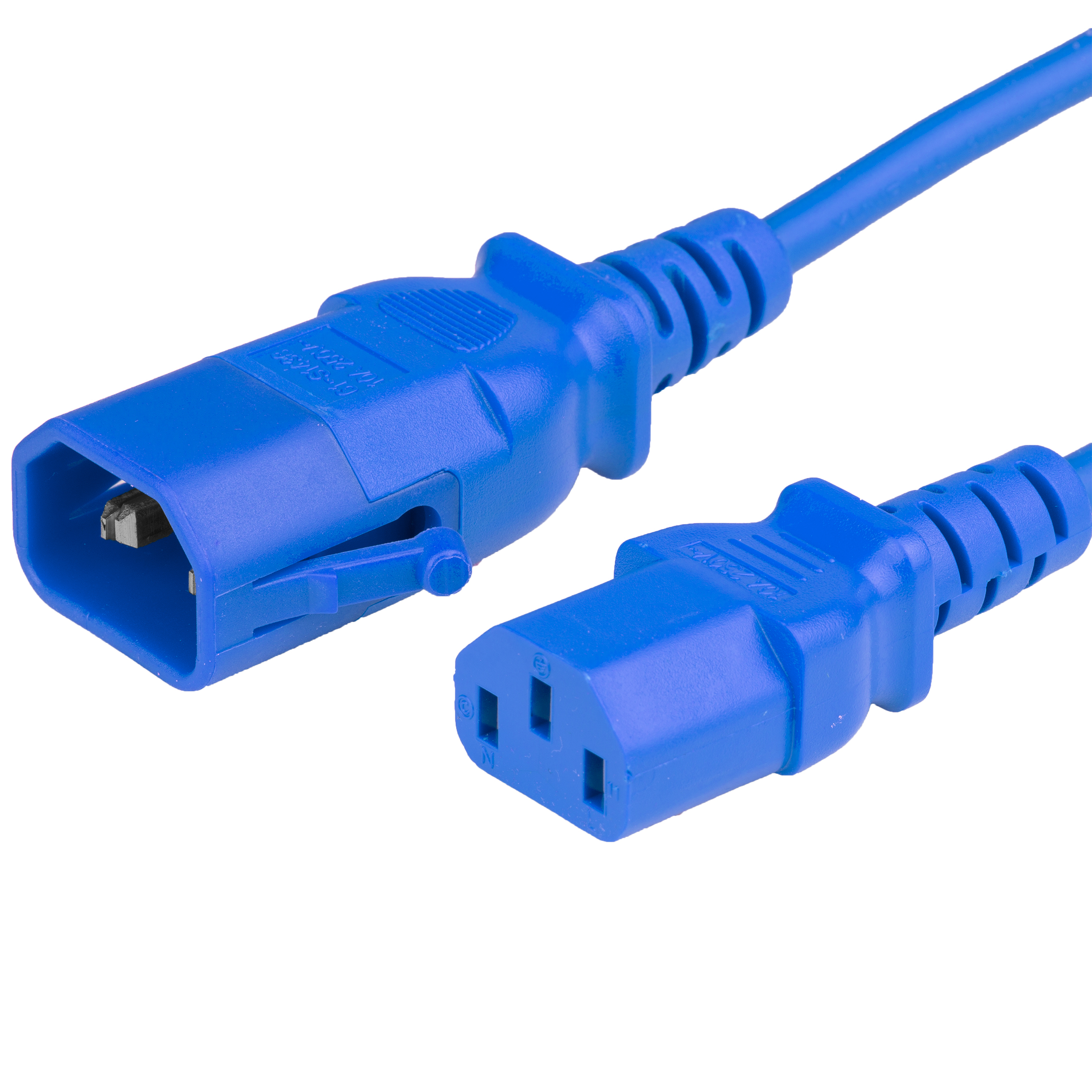 10A P-Lock C14 C13 Power Cords - BLUE
BLUE 10A 250V P-Lock C14 C13 Power Cords. Locking power cables are designed to mate with Server Technology PDUs to securely lock the plug to the PDU. This reduces the chance of accidental power loss to equipment due to loose connections. Cordage is SVT, a thinner cordage than standard duty power cables ideal for high-density data centers. C14 C13 Power Cords are also available in RED, BLACK, YELLOW, and GREEN. 15A Cables also available with a heavier duty, robust SJT jacket. Typical applications: Data Centers, Medical Devices, Automation Industry, Industrial Equipment, Architectural Devices, Broadcasting Stations, and Critical Power Management.
Why use a P-Lock power cord?
P-Lock power cords allow your plug (male) to firmly lock into place on matching Server Technology, Raritan and Vertiv-Emerson PDUs. Locking power cables eliminate the need to worry about a plug disconnecting from its PDU due to vibration from equipment or accidental disconnection.
● Revolutionary positive securing system prevents unintentional power disconnection.
● Patented C14 positive mechanism locks with P-Lock outlets and is backward compatible with any standard C13 outlets.
● Fit for high density multi-outlets design
● Rated up to 15 amps● Various colors / lengths available
Standard: IEC 60320
High Potential Test Voltage: 2000VAC (1min 50Hz)
Rating: UL/cUL : 10A/13A/15A 250VAC, VDE : 10A 250VAC
Operation Temperature: -25°C ~ +70°C
Flammability Corresponding to: Plug : UL 94V-2 or better; Cable: UL VW-1, IEC60332-1. Cat F2
Cable Option: North America : 18AWG 3G SVT / 16AWG 3G SJT / 14AWG 3G SJT, Europe : H05VV-F 3G 0.75mm2 / 1.0 mm2
For help finding a product or for product additional product information , call us at (860) 763-2100 or email sales@worldcordsets.com