NEMA L5-15P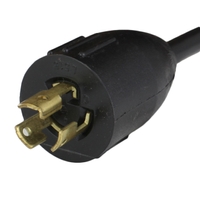 General Information:
The NEMA L5-15P is a 3 Wire grounded plug with a hot, neutral and ground pin rated up to 125V and 15A. The plug can be locked into place on the matching receptacle which prevents nuisance disconnection. This feature makes this plug popular in commercial and industrial settings where high traffic or moving of equipment is common. This plug can be distinguished against other NEMA Locking plugs by its small blade circumference on the plug head and inward turned tabs on the neutral blade.


What does the NEMA L5-15P Plug into?
| | | | | |
| --- | --- | --- | --- | --- |
| | | | The NEMA L5-15P connects to both the NEMA L5-15R Connector which is commonly found on extension cords and power drops, and the outlet which is commonly found in industrial and commercial settings where a locking feature is required to prevent nuisance unplugging of the device. | |
General Information
The NEMA L5-15P to Open/Whip/Pig Tail- NACC is a power supply cord rated for 125VAC and 15A max. NACC, North American Color Code, refers to the color code of the conductor insulation which is BLACK / WHITE / GREEN. This cord is for field installation to equipment or device that requires a line, neutral and ground conductor (not exceeding the rated power of the cord) to operate. Standard Whips are Remove Outer Jacket(ROJ) 2" and then each conductor is stripped 1/4" to bare conductor. Other ROJ/Strip combinations are available for bulk quantities upon request. This power cord is generally used for hard wiring into a device.
Open Ended (Whips, Pigtails, ROJ Strip)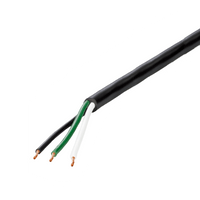 General Information:
The open end of a power supply cord is hard wired to another device, providing power either to our from that device. Unless otherwise noted, our power supply cords come standard with a 2" ROJ (Remove Outer Jacket) and a 1/4" Strip. The ROJ length determines the length of the individual conductors, and the Strip length determines the amount of copper exposed on the end of each conductor. If you require a custom ROJ or Strip length, please don't hesitate to reach out to us.
International Color Code(ICC) vs. North American Color Code(NACC)
For the majority of our customers, the color code used for the cordage is negligible. However, for OEM customers, or customers dealing with government installations or projects that have highly specified cords the color code used will be important to establish. Our standard color code for our Cut/ Remove of Outer Jacket/ Strip Conductor Job is North American Color Code (NACC).


| | | | | | |
| --- | --- | --- | --- | --- | --- |
| | | Ground Color | Neutral Color | Line/ Hot Color | |
| | International Color Code (ICC) | | Blue | Brown | |
| | North American Color Code (NACC) | Green | White | Black | |
Need help? Ask the experts!
With over 30 years of experience in the power and data industry, we have the expertise to help you find exactly what you are looking for. We're more than just an online store, we have experts in the power and data industry that can help you online, over the phone, or via email.
Have a request from a customer and not sure what you need? Let us quote it for you!

Looking for a specific product and can't find it? Let us find it for you!

Need a question answered quickly? Live Chat with us!
860.763.2100 or Ask us a Question