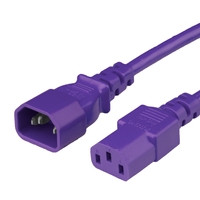 Purple 15A C14 C13 Power Cords | Colored Data Center Power Cords
PURPLE 15A 250V C13 C14 Power Cords. IEC 60320 Standard. Computer, PDU, Data Center applications. 15A SJT C14 C13 Power Cables are a heavy duty power cord, used with high powered equipment or for long cables to compensate for line loss. 15A C14 C13 power cables are 14awg with three wires, rated up to 250 volts. Visit out IEC 60320 Reference Page for more information on the different plugs and connectors in the IEC 320 standard.
For other cordages, ampere ratings, angles, and colors, please see our main C14 to C13 Power Cords page.
For help finding a product or for product additional product information , call us at (860) 763-2100 or email sales@worldcordsets.com