15A IEC 60320 C14 to C13 Jumper Cords are the "Heavy Duty" version of the 10A C14-C13. With thicker 14AWG cordage, it can handle currents up to 15A. The standard Rack Mount PDU has C13 outlets, which mate with the C14 plug on this jumper cord. Most servers, routers, switches, etc have C14 inlets on the PSU's (Power Supply Units) which mate with the C13 female connector on this jumper cord. Coming in a variety of colors, data centers typically choose a RED power cord for the primary power supply and a BLUE Power cord for the secondary power supply. This allows for easy identification of the primary and secondary power sources and reduces server downtime by decreasing accidental power failure. We offer Black, Blue, Gray, Green, Orange, Pink, Purple, Red, White, and Yellow colors to suite your specific color code. We stock several standard lengths ranging from 1' to 20'. Standard wire gauge is 14AWG.
For other cordages, ampere ratings, angles, and colors, please see our main C14 to C13 Power Cords page.
IEC 60320 C14 PLUG (MALE)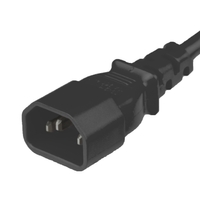 General Information:
The IEC 60320 C14 is a grounded 3 Wire Plug rated up to 250V and 15 Amps. The C14 plug is one of the most commonly used plugs in the data center industry, especially the Inlet version, which is found on the vast majority of Information Technology devices that are produced today. The IEC 60320 C14 is typically used with either 18awg SVT, 18awg SJT(OW), 16awg SJT(OW) or 14awg SJT(OW). The types of cordages used will change the rating of the overall cord set. This plug is very common in consumer, commercial and industrial applications which can create many different names for this plug across different industries like the computer plug, IEC plug, and more generalized names. Some also refer to this as the iec C13 plug, or the c13 power plug because of the C13 connector that it mates with.


What does the IEC 60320 C14 plug into?
| | | | | |
| --- | --- | --- | --- | --- |
| | | | The IEC 60320 C14 plug is designed to connect to the IEC 320 C13 connector and the outlet. The connector is found on a variety of 10-15A power cords, while the outlet is located on a variety of power supplies. The outlet is most commonly found on Power Distribution Units found in office, commercial, or data center settings as well as Power Adapter bricks. | |
IEC 60320 C13 CONNECTOR (FEMALE)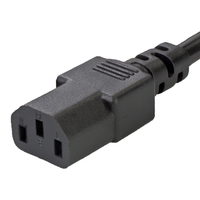 General Information:
The IEC 60320 C13 is a grounded 3 Wire connector rated up to 250V and 15 Amps. The C13 mates with a C14 inlet, and is commonly used in a jumper cable scenario in IT Installations providing power from a PDU to a server, router, switch or other computing device. Most people know the C13 as 'the thing that plugs into my computer' because it is the standard connector used to power most desktop computers. In a desktop computer application, the most common cable is the NEMA 5-15P to C13, which connects your standard North American wall outlet to a desktop computer. The iec 320 c13 c14 plug and connector are synonymous with Information Technology equipment primarily, but the C13 can be found powering equipment like medical devices and gaming consoles.

What does the IEC 60320 C13 Connect to?
| | | | | |
| --- | --- | --- | --- | --- |
| | | | The IEC 320 type C13 connector is designed to connect to the IEC 320 C14 plug and inlet. The C14 Plug is commonly found on power cords located in office, commercial or data center settings since the C13 inlet is usually only found in those environments. The C14 Inlet is commonly found on a variety of IT Equipment like monitors, switches, printers, power adapters, and more. | |
White Label Shipping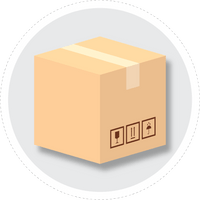 Are you a reseller looking for Blind or White Label Drop Shipping? We offer both! During checkout simply select "Blind Shipping", then either upload your own packing slip, or, upload your logo and part numbers into ours. You will receive automated tracking emails as soon as your order has been packed so you can keep your customer up to date in realtime. Blind drop shipping has never been easier. Contact us today!
Manufactured Under ISO: 9001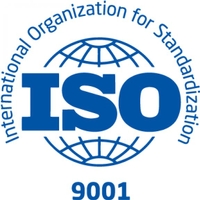 Our power cord sets are manufactured under an ISO 9001 quality management system to ensure that you get the same outstanding quality with on every order you place.
All of our NorthAmerican use Power Cord Sets are UL listed under E503529. This means that you can be sure that all of our power cord sets are of the highest quality and are certified for use in the United States.
UL Listed : E503526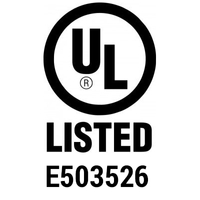 World Cord Sets strives to deliver the best quality products for the lowest cost, to show our commitment to quality and our understanding of customers expectation for consistence of quality we obtained the UL certification. All of our North American use Power Cord Sets are UL listed under E503529. This means that you can be sure that all of our power cord sets are of the highest quality and are certified for use in the United States.
General Information about C14 to C13 15A 14awg Power Cord Sets
Our 15A C14 to C13 power cord sets feature 14awg conductors inside a robust SJT outer jacket. 14awg C14 to C13 Cord Sets are the heaviest duty, highest amperage C14-C13 configuration available due to the max rating of both the C14 male plug and C13 female connector being 15A.
14awg C14-C13 power cords are recommended if you are unsure of how much current you device uses, or, if you are simply looking for the heaviest duty power cord. 15A C14 C13 power cords are not recommended for use in high density data centers that do not require 15A due to the size of the conductors significantly increase the Outer Diameter (OD) of the cordage, therefore reducing airflow inside of the cabinet.
World Cord Sets offers C14-C13 14awg power cords in multiple colors, lengths, and angles to ensure we stock the perfect cord set for your use. If you have a question or need help finding the correct cord, please don't hesitate to call us at (860) 763-2100 or email sales@worldcordsets.com,
Typical Applications of 15A C14 to C13 Power Cords
C14-C13 power cords are used for two primary functions.
Data Centers
In Data Centers, these cord sets, also referred to as "jumper cords" are used to connect a Power Distribution Unit to a Server, Router, Switch, or other IT device. Typically the PDU is mounted vertically on the side of the rack to provide outlets as close as possible to each unit. For this reason, the most common lengths found at 3FT and 6FT.
In Data Centers with redundant and separate circuits, color coded 15A power cords to easily identify which circuit the cord set (and therefore the device that it is attached to) is a part of to each troubleshoot disconnections and power path issues.
Applications of C14 to C13 Power Cords
See below for the application of using a C14-C13 Power Cord from World Cord Sets to connect a C13 outlet on a PDU to a C14 inlet on an HPE Proliant Server.

| | |
| --- | --- |
| (1) Rack Mount PDU | Rack Mounted PDUs are the standard way to distribute power to many devices in a rack. WoCo C14 C13 power cables mate perfectly will all brands of PDU including APC, Raritan, Server Technology and more. |
| (2) C14 Plug (Male) | The C14 plug on this power cable will mate with any C13 Outlet. The standard C14 does not feature a locking mechanism. |
| (3) C13 Connector (Female) | The C13 connector will mate with a matching C14 inlet, typically found on servers, routers, switches, and your standard desktop computer. |
| (4) Server, Router, Switch, Computer, Equipment | Many small appliances use a C14 inlet to provide power to the PSU (Power Supply Unit). Our C13 connectors will mate with any C14 inlet on your small appliance. |
Need help? Ask the experts!
With over 30 years of experience in the power and data industry, we have the expertise to help you find exactly what you are looking for. We're more than just an online store, we have experts in the power and data industry that can help you online, over the phone, or via email.
Have a request from a customer and not sure what you need? Let us quote it for you!

Looking for a specific product and can't find it? Let us find it for you!

Need a question answered quickly? Live Chat with us!
860.763.2100 or Ask us a Question