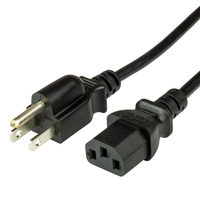 10A NEMA 5-15P to IEC 60320 C13 - BLACK - SVT (THIN)
10A NEMA 5-15P to IEC 60320 C13 - BLACK - SVT (THIN)
The NEMA 5-15P fits a standard NEMA 5-15R wall outlet.
The IEC 60320 C13 fits a C14 equipment inlet.
SVT cordage is thinner (smaller diameter) than SJT cordage and is commonly known as vacuum cord. 18awg-3c SVT has a nominal diameter of 0.245 inch and a nominal insulation thickness of 0.015 inch. Nominal voltage rating of SVT is 300V.
For help finding a product or for product additional product information , call us at (860) 763-2100 or email sales@worldcordsets.com