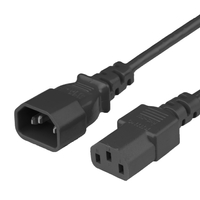 Black 10A C14 C13 LSZH Power Cords
IEC 60320 C14 C13 Power Cords utilizing LOW SMOKE ZERO HALOGEN cordage (BSI, HAR, ROHS, IEC, HD21.14, BS EN 50525-3-11). For installation where fire, smoke emission and toxic fumes create a potential threat to life and equipment. LSZH, LS0H, LSOH, LSFH, 0HLS, OHLS.
For other cordages, ampere ratings, angles, and colors, please see our main C14 to C13 Power Cords page.
For help finding a product or for product additional product information , call us at (860) 763-2100 or email sales@worldcordsets.com