Low Smoke Zero Halogen C14 to C15 power cord sets are used to connect a C13 outlet to a C16 inlet in an area where the smoke from a standard PVC cable could be hazardous. These are commonly found in Government buildings, airports, and other similar locations. Also referred to as LSZH.


Looking for another cordage, color, angle, or ampere rating? See our main IEC 60320 C14 to C15 Power Cord page!
Low Smoke Zero Halogen - General Information
Why Low Smoke Zero Halogen?
Standard power cable jackets are made from a PVC compound containing Chlorine (part of the Halogen Group), which, when burned release a toxic gas that can cause serious damage to humans and electrical equipment. This raises concerns in applications that have dense PVC cabling where electrical equipment or people are present. Low Smoke Zero Halogen, also known as Low Smoke Free of Halogen or (LSZH, LSOH, LS0H, OHLS) refers to the cable jacketing which is composed of thermoplastics/thermoset compounds that release limited smoke and no halogens when exposed to high heat/fire. This cordage was initially invented to solve two main problems: reduce smoke/improve visibility in an emergency fire escape situation and reduce toxins being released in such a fire that could harm victims exposed. This cordage is generally used where there is limited ventilation or where set standards require such health/safety measures. You can find the amount of halogen contained in typical LSZH Cable in Table 2 below.
Common Abbreviations and Terms for Low Smoke Zero Halogen
| TERM/ABBREVIATION | MEANING |
| --- | --- |
| LSZH | Low Smoke Zero Halogen |
| LSF | Low Smoke/Fume |
| LS0H | Low Smoke Zero Halogen |
| LSHF | Low Smoke Halogen Free |
| LSNH | Low Smoke No Halogen |
| NHFR | NonHalogen Flame Retardant |
| HFFR | Halogen Free Flame Retardant |
| FRNC | Fire Retardant, Non-Corrosive |
| LS | Low/Limited Smoke |
| ST | Smoke Test |
| FRLS | Fire Resistant, Low Smoke |
| RE | Reduced Emissions |
| LC | Low Corrosivity |
| LH | Low Halogen |
Table 1: Low Smoke Zero Halogen Terms and Abbreviations
Halogen Content in Standard Wire & Cable Polymers
Using the table below, you can see that standard PVC cables contain vastly greater amounts halogen contents that any of the LSZH polymers.
| Polymer | Halogen Content % by Weight |
| --- | --- |
| PU (polyurethane) | <.02 |
| EPR (Ethylene propylene rubber) | <.02 |
| PE (polyethylene) | <.02 |
| XLP (Cross-Linked Polyethylene) | <.02 |
| CSPE (chlorosulfonated polyethylene) | 13-26 |
| CPE (chlorinated polyethylene) | 14-28 |
| PVC (polyvinyl chloride) | 22-29 |
| FEP (fluorinated ethylene propylene) | 62-78 |
Table 2: Halogen Content in Typical Wire & Cable Polymers
When should I use LSZH cabling?
Low Smoke Zero Halogen cabling is usually used in regulated industries such as government. New data centers are sometimes choosing to use LSZH cabling to help protect data center facilities from the harmful smoke in case of fire. Because data centers utilize large ventilation systems, even a small amount of smoke in a small area can quickly be distributed accidentally throughout the entire building through the ventilation systems. A side note is the National Electrical Code requires cables used in plenum spaces to be Low Smoke Emitting, which is another common usage of this cordage. Refer to the National Electrical Code(NEC), or the National Fire Protection Agency(NFPA) to determine if LSZH cordage is right for you.
IEC 60320 C14 PLUG (MALE)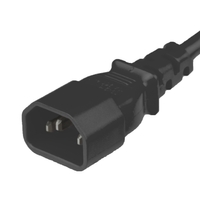 General Information:
The IEC 60320 C14 is a grounded 3 Wire Plug rated up to 250V and 15 Amps. The C14 plug is one of the most commonly used plugs in the data center industry, especially the Inlet version, which is found on the vast majority of Information Technology devices that are produced today. The IEC 60320 C14 is typically used with either 18awg SVT, 18awg SJT(OW), 16awg SJT(OW) or 14awg SJT(OW). The types of cordages used will change the rating of the overall cord set. This plug is very common in consumer, commercial and industrial applications which can create many different names for this plug across different industries like the computer plug, IEC plug, and more generalized names. Some also refer to this as the iec C13 plug, or the c13 power plug because of the C13 connector that it mates with.


What does the IEC 60320 C14 plug into?
| | | | | |
| --- | --- | --- | --- | --- |
| | | | The IEC 60320 C14 plug is designed to connect to the IEC 320 C13 connector and the outlet. The connector is found on a variety of 10-15A power cords, while the outlet is located on a variety of power supplies. The outlet is most commonly found on Power Distribution Units found in office, commercial, or data center settings as well as Power Adapter bricks. | |
IEC 60320 C15 CONNECTOR (FEMALE)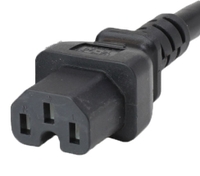 General Information:
The IEC 60320 C15 is a grounded 3 Wire connector rated up to 250V & 10 Amps Internationally and 125V/250V & 15 Amps in North America. The C15 mates with a C16 inlet and can also be down graded to a C14 Inlet. C14 Inlet and is commonly used in IT Installations providing power from a PDU to a server, router, switch or other computing device. The C15 is a HIGH TEMPERATURE connector rated up to 120°C, unlike the 70°C rating of the C13. The C15 is commonly used in in electric kettles and other household appliances that involve higher temperatures than a normal C13 is made to withstand. There is a dimple located below the ground pin to ensure that the standard C13 connector cannot be plugged into the C16 Inlet which is used on high temperature applications. This design is utilized to allow this C15 connector to be used on both high temperature applications and standard applications, as to not limit the user. The C15 connector is commonly used with 18awg SJT(OW), 16awg SJT(OW), and 14awg SJT(OW).

What does the IEC 60320 C15 Connect to?
| | | | | |
| --- | --- | --- | --- | --- |
| | | | The IEC 60320 type C15 connector is designed to plug into the high temperature rated IEC 320 C16 Inlet. This inlet is commonly found on high performance IT Equipment that reaches heats that exceed the rating of the standard IEC C13 connector. This inlet is designed to reach temperatures up to 120*C. The C15 can also be plugged into a standard non-high temp application C14 Inlet, which is located on a wide variety of IT Equipment like computer monitors and switches. | |
Need help? Ask the experts!
With over 30 years of experience in the power and data industry, we have the expertise to help you find exactly what you are looking for. We're more than just an online store, we have experts in the power and data industry that can help you online, over the phone, or via email.
Have a request from a customer and not sure what you need? Let us quote it for you!

Looking for a specific product and can't find it? Let us find it for you!

Need a question answered quickly? Live Chat with us!
860.763.2100 or Ask us a Question