UK BS1363 Plug Adapters. The BS1363 is a standard British wall outlet rated at 13A 250VAC. These British plug adapters will plug into the BS1363 outlet and convert to a variety of outlets. Places for possible use of the BS1363 adapter: Anguilla, Bahrain, Botswana, Burma, Cyprus, Dominica, Falkland Islands (Malvinas), Gambia, Ghana, Gibraltar, Hong Kong, Iraq, Ireland, Kenya, Kuwait, Liberia, Malawi, Malaysia, Malta, Mauritius, Nigeria, Norhtern Ireland, Oman, Qatar, St. Kits-Nevis, St. Lucia, St. Vincent, Saudi Arabia, Seychelles, Sierra Leone, Singapore, Sudan, Tanzania, Uganda, United Arab Emirates, United Kingdom, Yemen, Zambia, Zimbabwe
UK BS1363 ANGLED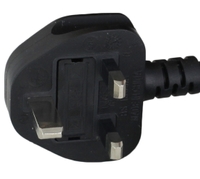 The UK BS1363 ANGLED is a 3 pin Line/Load/Ground plug rated up to 250V and 13A. This plug is protected with a fuse inside of the face of the plug for overload protection.
IEC 60320 C13 CONNECTOR (FEMALE)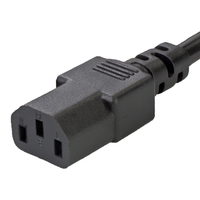 General Information:
The IEC 60320 C13 is a grounded 3 Wire connector rated up to 250V and 15 Amps. The C13 mates with a C14 inlet, and is commonly used in a jumper cable scenario in IT Installations providing power from a PDU to a server, router, switch or other computing device. Most people know the C13 as 'the thing that plugs into my computer' because it is the standard connector used to power most desktop computers. In a desktop computer application, the most common cable is the NEMA 5-15P to C13, which connects your standard North American wall outlet to a desktop computer. The iec 320 c13 c14 plug and connector are synonymous with Information Technology equipment primarily, but the C13 can be found powering equipment like medical devices and gaming consoles.

What does the IEC 60320 C13 Connect to?
| | | | | |
| --- | --- | --- | --- | --- |
| | | | The IEC 320 type C13 connector is designed to connect to the IEC 320 C14 plug and inlet. The C14 Plug is commonly found on power cords located in office, commercial or data center settings since the C13 inlet is usually only found in those environments. The C14 Inlet is commonly found on a variety of IT Equipment like monitors, switches, printers, power adapters, and more. | |
Universal Connector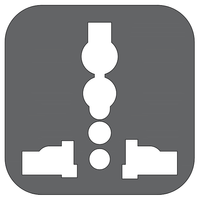 The Universal Connector is a 2 pole, 3 wire grounded connector rated for up to 250V and 20A. Universal socket: Accepts
USA NEMA 1-15P, USA NEMA 5-15P, USA NEMA 5-20P, USA NEMA 6-15P, USA NEMA 6-20P, Argentina IRAM2073, Australia AS3112 10 and 15 Amp Versions, China GB2099 10 Amp (not 16amp version), Denmark AFSNIT, Europlug CEE7/16, France CEE7/4 (Ground is dropped), Germany CEE7/7 (Ground is dropped), Israel SI32, Italy CEI 23-50 10 Amp (not 16amp version), Japan JIS8303, Korea KSC8305 (Ground is dropped), Russia GOST7396 (Ground is dropped), South Africa SABS 164-1 6 Amp (not 16amp version), Switzerland SEV 1011 10 Amp (not 16amp version), Taiwan CNS6797, United Kingdom BS1363, Male IEC320 C14.
Note: Power Plug Adapters do not convert voltage, they just change the plug type. Use a proper voltage converter along with a power plug adapter if your device is incompatible with the country's voltage.
Need help? Ask the experts!
With over 30 years of experience in the power and data industry, we have the expertise to help you find exactly what you are looking for. We're more than just an online store, we have experts in the power and data industry that can help you online, over the phone, or via email.
Have a request from a customer and not sure what you need? Let us quote it for you!

Looking for a specific product and can't find it? Let us find it for you!

Need a question answered quickly? Live Chat with us!
860.763.2100 or Ask us a Question