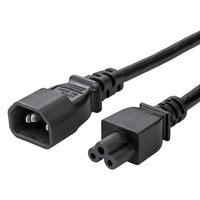 Black C14 to C5 10A 125V Power Cords
Our C14 to C5 10A 250V Power Cords are UL approved and ready to ship today. The C14 is used to connect to a C13 outlet or connector, commonly found on a PDU (Power Distribution Unit). The C5 connects to a C6 inlet commonly found on power supply units or small devices.
For other ampere ratings, see our main C14 to C4 Power Cord page.
For help finding a product or for product additional product information , call us at (860) 763-2100 or email sales@worldcordsets.com