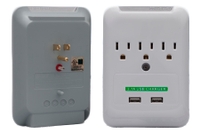 AC Wall Taps (Outlet Attached Wall Outlet)
World Cord Sets, Inc (WoCo)'s wall mount surge protectors are perfect for homes, small businesses, offices, etc. Allowing you to turn one standard North American NEMA 5-15R wall outlet into either 3 or 6 ac outlets, and 2 USB outlets, gives you the flexibility to charge/power many devices at one time. 
Our 3-outlet and 6-outlet taps with 2 USB ports are perfect in your kitchen to allow you to charge all of your devices on the counter, such as phones, tablets, rechargeable battery packs, cameras, computers, etc.
For help finding a product or for product additional product information , call us at (860) 763-2100 or email sales@worldcordsets.com