NEMA 6-15P
250 volts
15 Amps
The NEMA 6-15P is a 3 Wire grounded plug featuring two blades and a ground pin, rated up to 250V AC and 15 Amps. The NEMA 6-15P has two, horizontal blades on the top of the plug spaced 23⁄32" center to center and a ground pin spaced between the two on the bottom of the plug. The NEMA 6 Series is commonly used with 208V and 240V circuits depending on your electrical service
Available Body Styles
The NEMA 6-15P is available in many different configurations. If you are looking for a particular style of plug/connector body, country of manufacture, cordage type or approvals browse our selection of manufacturing capabilities!
In stock products with NEMA 6-15P
View our selection of Stock NEMA 6-15P products, with same day shipping available!
More Information about NEMA 6-15P
NEMA 6-15P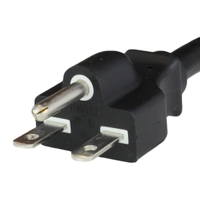 General Information:
The NEMA 6-15P is a 3 Wire grounded plug featuring two line blades and a ground pin, rated up to 250V AC and 15 Amps. The NEMA 6-15P has two, horizontal blades on the top of the plug spaced 23⁄32" center to center and a ground pin spaced between the two on the bottom of the plug. The NEMA 6 Series is commonly used with 208V and 240V circuits depending on your electrical service. The NEMA 6-15P Series does not feature a neutral conductor.


What does the NEMA 6-15 plug into?
| | | | | |
| --- | --- | --- | --- | --- |
| | | | The NEMA 6-15P Connects to both the NEMA 6-20R Connector and the NEMA 6-15/20R Wall Outlet. The Connector is used for extension cords and power drops, while the outlet is found in some commercial and industrial buildings. | |