Japan JIS8303 3-Pin 6-15P
250 volts
15 Amps
The JIS8303 6-15P is a 3 Wire grounded plug featuring two blades and a ground pin, rated up to 250V AC and 15 Amps. The JIS8303 6-15P has two, horizontal blades on the top of the plug spaced 23⁄32" center to center and a ground pin spaced between the two on the bottom of the plug. The JIS8303 6 Series is commonly used with 208V and 240V circuits depending on your electrical service. The JIS8303 is identical to the NEMA standard in appearance and ratings, it is simply different standards to adhere to global usage.
Available Body Styles
The Japan JIS8303 3-Pin 6-15P is available in many different configurations. If you are looking for a particular style of plug/connector body, country of manufacture, cordage type or approvals browse our selection of manufacturing capabilities!
In stock products with Japan JIS8303 3-Pin 6-15P
View our selection of Stock Japan JIS8303 3-Pin 6-15P products, with same day shipping available!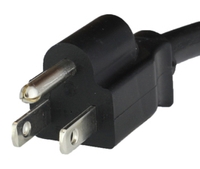 Japan
More Information about Japan JIS8303 3-Pin 6-15P