NEMA 1-15P Plug Adapters (Adaptors) allow you to convert an NEMA 1-15R outlet into a variety of different outlets/connectors including Europlug.
NEMA 1-15P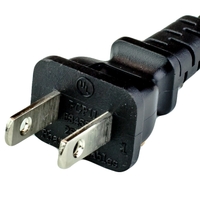 General Information:
The NEMA 1-15P is a 2 Wire 2 Blade ungrounded plug rated at 125V and 15 Amps in North America. The plug will have two parallel flat blades, 1⁄4 inch (6.35 mm) wide, 0.06 inches (1.524 mm) thick, 5⁄8–23⁄32 inch (15.875–18.256 mm) long, and spaced 1⁄2 inch (12.7 mm) apart. The use of NEMA 1-15R (the receptacle matching the 1-15P) is discontinued in new home installations in the U.S (since 1962). NEMA 1-15P are compatible with the NEMA 5-15R outlet. This plug can be "polarized" or "non-polarized", a polarized 1-15P will have unequal blades to prevent harm to devices attached.


What does the NEMA 1-15P Plug Into?
| | | | |
| --- | --- | --- | --- |
| | | The NEMA 1-15P connects to the standard NEMA 5-15/5-20R Wall outlet located in all new residential buildings in North America. It also connects to older non grounded 1-15R wall outlets located in order buildings that is currently not permitted for new construction. If you look closely you can see that the left (neutral) slot is slightly taller than the one to the right. This is for polarity purposes when connecting the NEMA 1-15P. | |
What is the difference between polarized and non-polarized NEMA 1-15P?
| | | | | |
| --- | --- | --- | --- | --- |
| | | | To tell the difference between the Polarized and unpolarized NEMA 1-15P you will have to look at the two pins. A polarized plug will have two pins like the non polarized, but the neutral blade will have a slightly "bulbed" end that is roughly 5/16" wider than the line blade. This forces polarity when connecting to a wall outlet. | |
Need help? Ask the experts!
With over 30 years of experience in the power and data industry, we have the expertise to help you find exactly what you are looking for. We're more than just an online store, we have experts in the power and data industry that can help you online, over the phone, or via email.
Have a request from a customer and not sure what you need? Let us quote it for you!

Looking for a specific product and can't find it? Let us find it for you!

Need a question answered quickly? Live Chat with us!
860.763.2100 or Ask us a Question