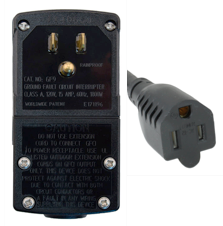 Plug Head GFCI | NEMA 5-15P MANUAL RESET to 5-15R Extension Cord
MANUAL RESET - Plug Head Style - NEMA 5-15P to OPEN
MANUAL RESET GFCI:Manual reset is required when plugged in or after power interruption. Power Indicator lamp goes OFF if GFCI trips, power is interrupted or GFCI is unplugged.
Manual reset is ideal for protection of power tools and equipment on construction sites and in industrial maintenance environments.
The NEMA 5-15P is a 3 Wire grounded plug featuring two blades (can be equal or unequal widths due to the ground pin forcing polarity) and one ground pin rated up to 125V AC and 15 Amps. The NEMA 5-15P is your standard household plug used for to connect small appliances such as TV's, Microwaves, hairdryers, etc to a wall outlet. The NEMA 5-15P is compatible with a Nema 5-20R T-Slot outlet, which is commonly found in new home installations.
For help finding a product or for product additional product information , call us at (860) 763-2100 or email sales@worldcordsets.com