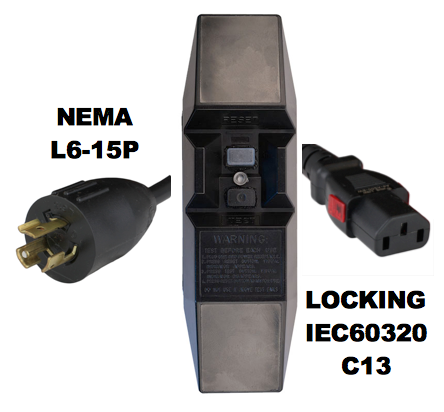 MANUAL RESET INLINE GFCI -L6-15P to LOCKING IEC320 C13
MANUAL RESET - INLINE STYLE - NEMA L6-15P to LOCKING IEC60320 C13 GFCI POWER CORD
CUSTOM LENGTHS AVAILABLE - SEND US A REQUEST
https://shop.worldcordsets.com/shop/contact-us
The NEMA L6-15P PLUG (MALE)
This is a TWIST-LOCK plug. It mates with a L6-15R (connector or receptacle). THE NEMA L6 standard specifies three wire (hot-hot-ground), three blade grounded wiring devices rated up to 250V. Standard nominal supply voltages are 240V or 208V depending on the phase configuration. The L6 Standard does not provide a neutral wire. These plugs are commonplace in Rack PDUS, Industrial Equipment, and large power tools such as welders. The '-15' in L6-15P is the designation for the amperage.
LOCKING IEC 60320 C13 CONNECTOR (FEMALE)
The LOCKING IEC60320 C13 is a grounded 3 Wire connector rated up to 250V and 15 Amps. The LOCKING feature on the C13 prevents un-intended disconnect. The C13 mates with a C14 inlet, and is commonly used in a jumper cable scenario in IT Installations providing power from a PDU to a server, router, switch or other computing device. Most people know the C13 as 'the thing that plugs into my computer' because it is the standard connector used to power most desktop computers.
Our 120V/240V GFCI allows the GFCI to correctly function in both 120V and 240V circuits. Manual Reset Inline GFCIs, also knows as GFIs, are typically used for outdoor electrical equipment and job site applications. As the name implies, manual reset GFCI's (Ground Fault Circuit Interrupters) must be manually reset when they are tripped. This means that when power is lost, the device will not regain power until the GFCI has been reset by the operator. This is critical when operating power tools to ensure that when power is regained to the device, it does not automatically power back on, potentially cause injury or death to the operator. Trip level is between 4-6 mA. Inline User attachable GFCI's can be used to convert an existing cord into a GFCI cord by cutting the cord to the equipment, ROJing and Stripping the ends, and wiring the GFCI onto the cord. Contact Us for custom GFCI Cord Sets made to your specifications. Typical applications include Tools, Power washers, Paint Sprayers, Extension Cords, Lawn & Garden Equipment and Outdoor Tools.
For help finding a product or for product additional product information , call us at (860) 763-2100 or email sales@worldcordsets.com