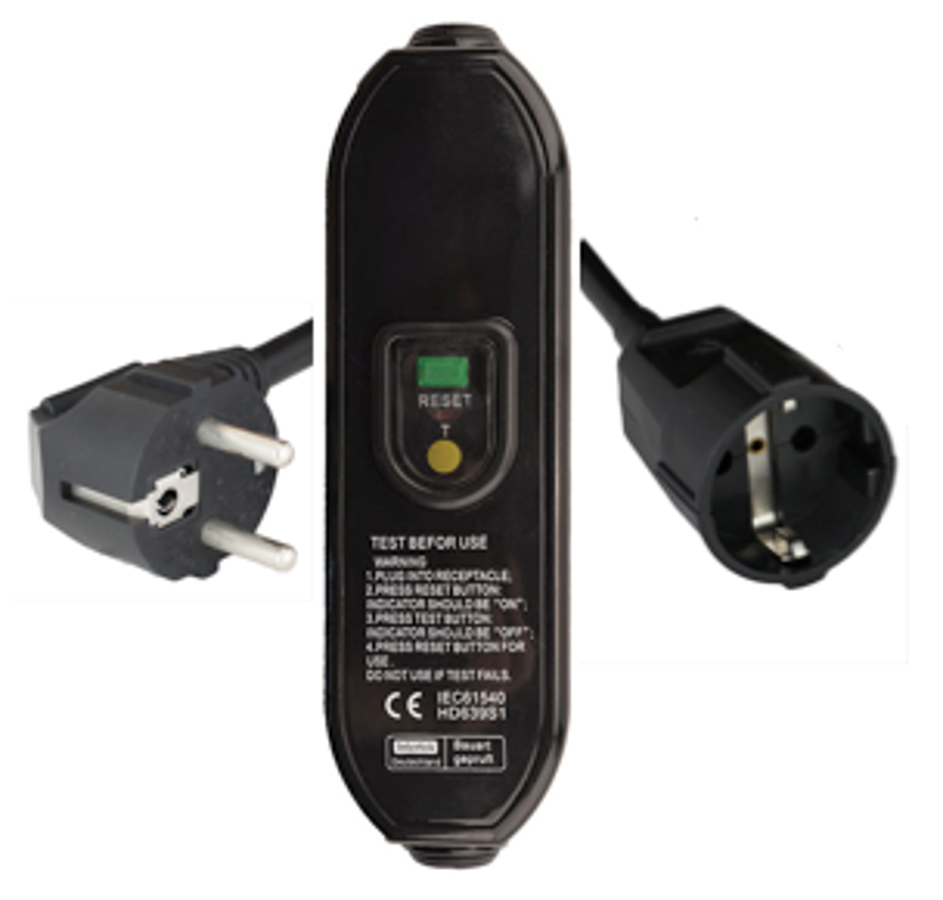 Europe Schuko CEE7/7 RCD (GFCI) Extension Cords
European Schuko CEE7/7 RCD (GFCI) Extension Cords.
The plug (MALE) is a Type F Schuko CEE7/7. It fits both E (France) and F (European / Germany) type outlets (sockets). Available in straight or down/up angle orientation. The plug has two round pins (line and neutral) each 4.8 mm diameter, 19 mm long and spaced 19 mm apart. The plug also has two flat areas (top and bottom sides) and a female contact for the ground.
The connector (FEMALE) is a Type F Schuko CEE7/3 which accepts the Type F Schuko CEE7/7 plug.
The RCD (GFCI) is a residual current device. These RCD extension cords are available in 10 and 30 mA trip levels. European GFCIs rated at 10mA are intended for protection against "let-go" currents and are recommended for use in hospitals and old peoples' homes, moist or damp environments, or similar locations.
These European extension cords are for use in international projects in Europe, Germany, Algeria, Austria, Azerbaijan, Belarus, Belgium, Bosnia and Herzegovina, Brunei, Bulgaria, Burundi, Cameroon, Cape Verde, Central Africa Rep, Chad, Comoros, Congo Democratic Republic, Croatia, Czech Republic, Djibouti, Egypt, Eritrea, Finland, France, French Guiana, Gabon, Georgia, Germany, Greece, Greenland, Guadeloupe, Guinea, Guinea-Bissau, Hungary, Iceland, Indonesia, Jordan, Kazakhstan, South Korea, Kyrgyzstan, Liechtenstein, Luxembourg, Macedonia, Madagascar, Mali, Martinique, Monaco, Montserrat, Morocco, Mozambique, Netherlands, Netherlands Antilles, New Caledonia, Norway, Philippines, Portugal, Reunion, Romania, Russia, San Marino, Senegal, Serbia and Montenegro, Slovenia, Spain, Suriname, Sweden, Syria, Togo, Tunisia, Turkey, Ukraine, Vietnam.
For help finding a product or for product additional product information , call us at (860) 763-2100 or email sales@worldcordsets.com