IEC 60320 C14 PLUG (MALE)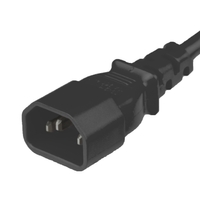 General Information:
The IEC 60320 C14 is a grounded 3 Wire Plug rated up to 250V and 15 Amps. The C14 plug is one of the most commonly used plugs in the data center industry, especially the Inlet version, which is found on the vast majority of Information Technology devices that are produced today. The IEC 60320 C14 is typically used with either 18awg SVT, 18awg SJT(OW), 16awg SJT(OW) or 14awg SJT(OW). The types of cordages used will change the rating of the overall cord set. This plug is very common in consumer, commercial and industrial applications which can create many different names for this plug across different industries like the computer plug, IEC plug, and more generalized names. Some also refer to this as the iec C13 plug, or the c13 power plug because of the C13 connector that it mates with.


What does the IEC 60320 C14 plug into?
| | | | | |
| --- | --- | --- | --- | --- |
| | | | The IEC 60320 C14 plug is designed to connect to the IEC 320 C13 connector and the outlet. The connector is found on a variety of 10-15A power cords, while the outlet is located on a variety of power supplies. The outlet is most commonly found on Power Distribution Units found in office, commercial, or data center settings as well as Power Adapter bricks. | |
IEC 60320 C15 CONNECTOR (FEMALE)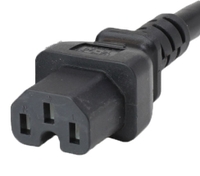 General Information:
The IEC 60320 C15 is a grounded 3 Wire connector rated up to 250V & 10 Amps Internationally and 125V/250V & 15 Amps in North America. The C15 mates with a C16 inlet and can also be down graded to a C14 Inlet. C14 Inlet and is commonly used in IT Installations providing power from a PDU to a server, router, switch or other computing device. The C15 is a HIGH TEMPERATURE connector rated up to 120°C, unlike the 70°C rating of the C13. The C15 is commonly used in in electric kettles and other household appliances that involve higher temperatures than a normal C13 is made to withstand. There is a dimple located below the ground pin to ensure that the standard C13 connector cannot be plugged into the C16 Inlet which is used on high temperature applications. This design is utilized to allow this C15 connector to be used on both high temperature applications and standard applications, as to not limit the user. The C15 connector is commonly used with 18awg SJT(OW), 16awg SJT(OW), and 14awg SJT(OW).

What does the IEC 60320 C15 Connect to?
| | | | | |
| --- | --- | --- | --- | --- |
| | | | The IEC 60320 type C15 connector is designed to plug into the high temperature rated IEC 320 C16 Inlet. This inlet is commonly found on high performance IT Equipment that reaches heats that exceed the rating of the standard IEC C13 connector. This inlet is designed to reach temperatures up to 120*C. The C15 can also be plugged into a standard non-high temp application C14 Inlet, which is located on a wide variety of IT Equipment like computer monitors and switches. | |
What is TAA?
TAA Power Cords are cables that are in compliance with the Trade Agreements Act (19 U.S.C. & 2501-2581) of 1979. The Trade Agreements Act enacted a requirement that the United States government only acquire products made in TAA compliant countries. This excludes China, India, and Russia, among other countries. Products that fall under our 'TAA' category, including our TAA C13, C15 and C19 cables, are all certified TAA compliant and can be sold to the US Government for "end use" acquired for public use.
European Schuko CEE7/7 - Straight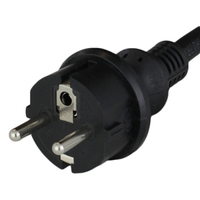 The European Schuko CEE7/7 - Straight plug is a 2 pole, grounded plug. The plug has two round pins (line and neutral) each 4.8 mm diameter, 19 mm long and spaced 19 mm apart. The plug also has two flat areas (top and bottom sides) and a female contact for the ground. The CEE7/7 Schuko is a hybrid plug designed to fit into both type C and F Schuko receptacle. Schuko is an acronym of the german word "Schutzkontakt" meaning safety contact which is visible on the top and bottom of the plug end.
NEMA 5-15P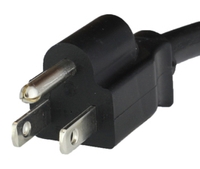 General Information:
The NEMA 5-15P is a 3 Wire grounded plug featuring two blades (can be equal or unequal widths due to the ground pin forcing polarity) and one ground pin rated up to 125V AC and 15 Amps. The ground pin can be either a rounded shape or a U Shape depending on the manufacturer, but both are functionally the same. The NEMA 5-15P is your standard household plug used for to connect small appliances such as TV's, Microwaves, hairdryers, etc to a wall outlet. The NEMA 5-15P is compatible with a NEMA 5-20R T-Slot outlet, which is commonly found in new home installations.


What does a NEMA 5-15P Connect to?
| | | | | |
| --- | --- | --- | --- | --- |
| | | | The NEMA 5-15 Plug connects to both the NEMA 5-15R Connector and the NEMA 5-15/5-20R Wall Outlet. The connector is commonly found on Extension cords, and the NEMA 5-15/5-20R Wall Outlet is the standard power supply outlet in all residential and commercial construction in North America. | |
NEMA 6-20P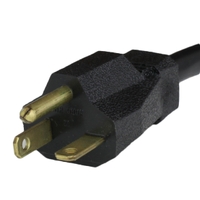 General Info:
The NEMA 6-20P is a 3 Wire grounded plug featuring two line blades and a ground pin, rated up to 250V AC and 20A. The 6-20P has a horizontal and vertical blade to prevent attachment to lower ampere rated receptacles. However, the 6-20R (receptacle) offers a "T" slot allowing connection of both a 6-20P and a 6-15P. Common applications are commercial ovens and large air condition units. The NEMA 6-20P Series does not feature a neutral conductor.


What does the 6-20P Connect to?
| | | | | |
| --- | --- | --- | --- | --- |
| | | | The NEMA 6-20P Connects to both the NEMA 6-20R Connector and the NEMA 6-15/20R Wall Outlet. The Connector is used for extension cords and power drops, while the outlet is found in some commercial and industrial buildings. | |
Need help? Ask the experts!
With over 30 years of experience in the power and data industry, we have the expertise to help you find exactly what you are looking for. We're more than just an online store, we have experts in the power and data industry that can help you online, over the phone, or via email.
Have a request from a customer and not sure what you need? Let us quote it for you!

Looking for a specific product and can't find it? Let us find it for you!

Need a question answered quickly? Live Chat with us!
860.763.2100 or Ask us a Question